Jurong Bird Park is Asia's largest bird park with a collection of more than 5,000 birds across 400 species in the 20.2 hectares of exploratory landscape.
Hike into the Waterfall Aviary that houses over 600 birds as well as a 30-metre high waterfall. As these samll birds flutter freely around the surroundings of over 100 plant species, enjoy close encounters with these birds during the daily feeding sessions.
Don't miss out the Lory Loft, Jungle Jewels, Penguin Coast and Flamingo Lakes as well. Tired from all the walking? Just hop onboard one of the guided trams and enjoy the ride through the park.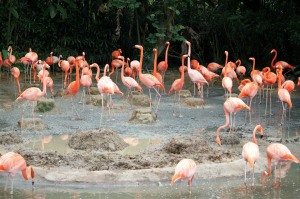 Opening hours :
8.30am to 6.00pm (Daily)
Birdz of Play Opening hours :
Dri-play area : 8.30am to 6.00pm (Daily)
Wet-play area : 11.00 to 1730 (on weekdays Only), 9.00 to 1730 (on School Holidays/PH/weekends)
Admission Fee
Adult : $20
Child (3 to 12 years old) : $13
Senior Citizen** : $10
All prices are in Singapore dollars and inclusive of 7% GST
Prices are subject to change without prior notice
*Admission for child below 3 years old is free
**Senior Citizen admission only applicable to Singaporean or Singapore PR aged 60 and above. Senior Citizens are required to present proof of identification.
 How to get to the Jurong Bird Park :
The nearest MRT station to Jurong Bird Park is Boon Lay (EW27) on the East-West (Green) line.
Catch these connecting public buses No 194 or 251 from Boon Lay Bus Interchange that will take you right to the Bird Park.
Alternative way is to hop onto any taxi or self drive there. Jurong Bird Park is about a 30-minute drive away from the city.
Address : 2 Jurong Hill Singapore 628925
Tel : 62650022