Europe's first music hotel, nhow Berlin is located directly on the banks of the river Spree and just a 5-minute walk from MTV Berlin and Universal Music. It offers 2 professional music recording studios, elegant spa facilities and free Wi-Fi.
V8 Hotel Motorworld Region Stuttgart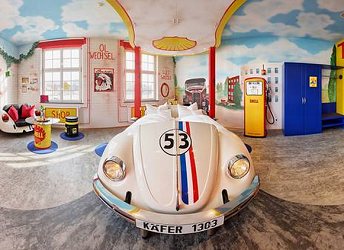 The automobile and motorcycle were purported to have been invented in Stuttgart by Karl Benz, and today with both Mercedes-Benz and Porsche having their headquarters in Stuttgart, it is thus apt to have a automobile theme hotel in Stuttgart.
All their rooms in V8 Hotel are, depending on the theme, equipped with high-quality materials, individual elements and many original parts from the automotive world. In addition to 4 single rooms, 16 design double rooms, the junior suite and their Mercedes Suite, the V8-HOTEL offers, as a special feature,10 automotive themed rooms. The themes are Drive in Cinema, gas station, Route66, racing etc.
See hotel website for more pictures.
If you wonder what is it like to sleep in a sewage pipe, then Das Park Hotel is the place for you!
Das Park Hotel is constructed from repurposed, incredibly robust drain pipes. It is situated on the "Emscherinsel" in Bottrop-Ebel near Essen directly at the Emscher bicycle route.
Open for lodging from May to October, the 'rooms' come with a double wide Eurofoam mattress held by an ergonomic slatted frame by Optimo. Other amenities like toilet, showers, cafe etc are supplied by the surrounding public space.
Another interesting thing about this hotel is that there is no fixed cost for staying, you pay whatever amount (in euro) that you can afford or want to pay for the night in the pipe.
Visit the official website to book your stay!