Unique Hotels – United States
To enter the Lodge, one must actually scuba dive 21 feet beneath the surface of the sea. Jules' really is underwater. Diving through the tropical mangrove habitat of the Emerald Lagoon and approaching the world's only underwater hotel is quite an experience. Even from the outside, Jules' big 42 inch round windows cast a warm invitation to come in and stay a while, relax and get to know the underwater world that so few of us have even visited.
To get into Jules" Undersea Lodge, you must be a certified Scuba Diver. If you are not, Jules provide scuba diving certification.
For more information, visit their website.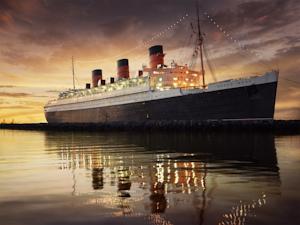 Offering a full-service spa, on-site dining and cabins with a flat-screen TV, this famous ocean liner is permanently stationed in Long Beach, California. During World War II, the Queen Marytransported more than 750,000 military personnel, including Winston Churchill. Today the Queen Mary is open to all as hotel, museum and dining destination.
Dog Bark Park Inn is a b&b guesthouse inside the world's biggest beagle. Guests enter the body of the beagle from a private 2nd story deck. Some of the dog's decorative furnishings are carvings by Dog Bark Park chainsaw artists Dennis & Frances. Inside and up another level to the head of the dog is a loft room with additional sleeping space plus a cozy alcove in the muzzle.
Room rates @ $98 per night inclusive of breakfast for double occupancy.
Pets are welcomed in this guesthouse at $15 per pet.
For more information visit the official website
The Library Hotel's collection of over 6,000 books is organized by the Dewey Decimal System. Each of the 10 guestroom floors honor one of the 10 categories of the DDC and each of the 60 rooms are uniquely adorned with books and art exploring a distinctive topic within the category it belongs to.
There is a reading room with hundreds of books available to guests 24 hours a day. Besides offering magnificent views of Madison Avenue, the Reading Room offers complimentary refreshments.
For book lovers, this hotel is heaven!
Overlooking the Charles River, in Boston city centre, this historic landmark hotel was formerly the Charles Street Jail which housed a number of famous inmates and World War II prisoners of war from the German submarines. It reopened in 2007 as a 300 room luxury hotel with a number of high end bars and restaurants. Besides being located near to many of Boston's major landmarks and venue, the hotel also offers state of the art fitness facilities, free seasonal bicycle rentals along with free seasonal yoga classes.
In 1969 Don Denlinger took on a dare to bid on 19 old cabooses being auctioned off by the Pennsylvania Railroad. To his surprise, he won them for $100. The enterprising man moved them to a parcel of land near the Strasburg Railroad and turned them into unique train lodging in the heart of Amish countryside. He continued to add to his collection of train cars over the years. The Red Caboose Motel has since changed hands and restored and repainted to feature the authentic colors of the railroads they represent.
Kids will love the petting zoo with sheep, goats, chickens and ponies and they'll be able to feed the farm animals. THe 9 1/2 acres of farmland provides plenty of open fields for playing ball, flying kites, tossing Frisbees or just strolling through the Amish countryside.